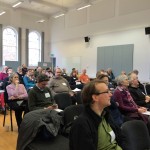 Many thanks to the organisers of Conference 2016 – Roy Car-Hill for an excellent programme and John Bibby & Jan Böhnke on local arrangements.
There were about 60 people attending the event in York.
You can view the 2016 Conference speakers' presentations, pictures and a storify of tweets from the day at the conference page.
Alistair Cairns